Liminality is now permanently closed to submissions!
The text of this page is archival.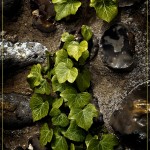 In anthropological terms, liminality is the midpoint of a ritual: the threshold where a person is no longer quite who they were, not yet who they might become. In between masks, what face might you have? What might you be in transit? Where will you go? Everything is possible in that moment; change is its own goal. Liminality is the space between.
Liminality was an online quarterly magazine of speculative poetry edited by Shira Lipkin (co-founded and co-edited through our third year by Mattie Joiner). We were very pleased to have met you. We were looking for speculative literary poems that touch the heart as much as the head; poems of the liminal, the fluid, and the fantastic. We loved seeing work that shifts shape, refuses to be to be easily pinned down or categorised. We actively welcomed diversity; we wanted to hear new as well as established voices. "Tell us tales we thought we knew, the way only you can tell them," we said. "Give us new myths."
Liminality paid $10 per poem, for first worldwide publication rights and non-exclusive anthology rights. 
Our final issue will be #28.