Bone-House
A.J. Odasso
Your beauty wounds me still,
your words sunk thorn-sharp
in my marrow.  You're a vice
I never gave up, no matter
what I may claim when my lover
pries.  Hús-bónd, house-bound
to blood and bone my heart
has been, but not to home.
Your eyes, bright-weft, my brick
and mortar, your quick mind
my only thrill.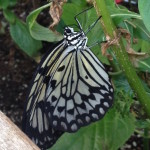 A. J. Odasso's poetry has appeared in a wide variety of strange and wonderful publications, including Sybil's Garage, Mythic Delirium, Jabberwocky, Cabinet des Fées, Midnight Echo, Not One of Us, Dreams & Nightmares, Goblin Fruit, Strange Horizons, and Stone Telling. Her début collection, Lost Books (Flipped Eye Publishing, 2010), was nominated for the 2010 LNPA Best New Poet Award and for the 2011 Forward Prize, and was also a finalist for the 2011 People's Book Prize. Her two chapbooks, Devil's Road Down and Wanderlust, are available from Maverick Duck Press. You can find her online at ajodasso.livejournal.com (and on Twitter under the same name). She is Senior Poetry Co-Editor at Strange Horizons magazine.