For Juliet – Robert Beveridge
Icarus tests the blade against his thumb,
licks off the blood before he cuts
into the cerulean persimmon nestled
beneath his right wing. Spears
the inevitable perfect wedge, takes
a bite: "needs more salt." Throws
the stem out the window; it blends
into the bougainvillea below, the kind
of spy no one regrets at the table
for Michaelmas Eve dinner. He excuses
himself to call his handler, who still wears
sunglasses in the maze; the celeriac can wait
for the blade a few more minutes. Icarus
taps his wrists with his wings, only looks
forward in his quest for central air.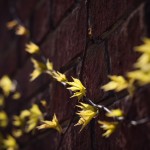 Robert Beveridge (he/him) makes noise (xterminal.bandcamp.com) and writes poetry in Akron, OH. Recent/upcoming appearances in New American Legends, Toho Journal, and Chiron Review, among others.