Devotion
Todd Dillard
Every morning I wake with fingers curled
around some lost thing–a door key,
its teeth biting into my palm
as if to carve a portal into my body;
a crumpled, blue-lined page tattooed
with illegible scribbles; the rachis
of a long-feathered, ash-colored bird,
its barbs and hooklings rooted to my lips,
furling and unfurling like seaweed
in the current of my murmurs. I believe
in offerings but never thought my body could be
the altar, that within me lurks divinity.
And now that I am the receptacle
of some creature's devotion–of someone's love
or well-aimed wrath or hope for tomorrow–
I find the whole thing tiresome, the role of deity
daunting, rewardless, dangerous. Maybe
this is why God is gone, just look at what we did
when He sought to know man–a garden
desecrated, a son nailed to the sky.
Every morning I lurch to the waste basket
and toss in a china doll's accusing eyes,
a bullet-perforated fedora, the hanged man's
tarot card. Every day I am more and more human.
Maybe grace is a form of self-preservation.
Maybe the center of worship is hollow
so a man could, if he needed to, crawl into it.
Maybe I am not worshiped but being taught
how to be holy: to discard and discard
until the day comes when I wake holding
myself, and I rise, I ascend, I walk a well-
trod path and, so saved, discard myself.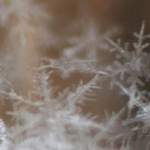 Todd Dillard's work has appeared or is forthcoming in Asimov's Science Fiction Magazine, Electric Literature, McSweeney's Internet Tendencies, Best New Poets, Barrelhouse, Abyss and Apex, Mirror Dance, Star*Line, and elsewhere. He is the recipient of a grant from the Society of Children's Book Writers and Illustrators, and a chapbook of his poems is available from Jeanne Duval Editions. He currently lives in Philadelphia with his wife and daughter.