Red Carpet – Sarah Grey
When you say that dress
just swallows her
do you speak
of sleeves like pinked throats,
of docile whale-wide skirts?
How long might she survive inside?
Or do you celebrate violence
in voile?
The tentacle-tangle of straps
netting shoulders,
the crewel-needled jaw
chewing jewels through the hem,
its shifting breath a rot of
silkworms discarded,
and hot as a camera flash?
Is she dead before your photo
goes to press?
It's the dress you've left
alive
to flick her lids
at the camera's light.
Couture at last accessorized
with flesh.
Wonder not of the dead,
but her outfit, instead!
That dress!
And only meat beneath.
Your starlet-feast
leaves a scarlet wake.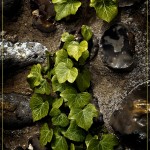 Sarah Grey's poetry has previously appeared in Polu*Texni and Star*Line.  Her short stories have appeared in a number of publications, including Lightspeed, Daily Science Fiction, and Flash Fiction Online, and have twice received an Honorable Mention in The Year's Best Science Fiction.  She lives with her family in California, where she spends her limited free time both literally and metaphorically herding cats.