Minotaur – Emma J. Gibbon
Oh, you are the best of me,
big and solid and filthy,
possessed with knowledge.
All the dark and secret places:
These are yours.
I am the forest
that you can retreat to.
You're a monolith
hiding in the dark.
You're soil and loam smell.
Let me burrow into you.
Minotaur.
Your huge head above me;
arms bridge my shoulders.
We're the labyrinth for the other.
I'll keep walking you
if you keep walking me.
I am inside-out in the dark.
You're the whisper in my ear.
We fill the room,
the walls bulge with us.
You're heat signature,
red and orange.
I'm blue hand prints,
wrap myself around and assimilate your glow.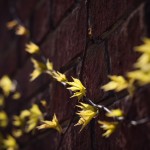 Emma J. Gibbon is originally from Yorkshire and now lives in Maine. Her poetry has appeared in Strange Horizons, The Pedestal Magazine and Eye to the Telescope. Her debut short fiction collection, Dark Blood Comes from the Feet, comes out next year. Emma lives in the woods with her husband, Steve, and three exceptional animals: Odin, Mothra and M. Bison (also known as Grim). Her website is emmajgibbon.com.