After the Forest Fire
Evelyn Deshane
We gathered ashes
& scattered fortunes, wondering if
the animals and the earthquakes
would split the earth in two, trying to
fight what was coming when no one
bothered to look.
Our hands are dark with carbon,
lungs full of smoke & head filled
with the footsteps we have yet
to scorch.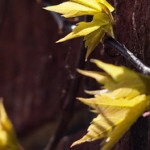 Evelyn Deshane has appeared in Plenitude Magazine, Strange Horizons, The Rusty Toque, and Lackington's. Their chapbook, Mythology, was released in 2015 with The Steel Chisel. Evelyn (pron. Eve-a-lyn) received an MA from Trent University and is currently studying for their PhD at Waterloo University. Visit them at: evedeshane.wordpress.com.