In Quietude
Steve Rasnic Tem
We only converse now
In our sleep, mine fitful,
Without rest, and you
With all your talking done.
I remember, but soon
I won't, your voice as I wake
To this quiet day, and wait
For your transparency
To give it sense.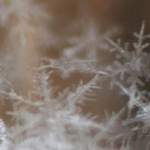 Steve Rasnic Tem's last novel, Blood Kin (Solaris, 2014) won the Bram Stoker Award. His next novel, UBO (Solaris, January 2017) is a dark science fictional tale about violence and its origins, featuring such historical viewpoint characters as Jack the Ripper, Stalin, and Heinrich Himmler. He is also a past winner of the World Fantasy and British Fantasy Awards. A handbook on writing, Yours To Tell: Dialogues on the Art & Practice of Writing, written with his late wife Melanie, will appear early in 2017 from Apex Books. In the Fall of 2018 Colorado-based HEX Publications will bring out his young adult Halloween novel The Mask Shop of Doctor Blaack (note that Blaack is not a typo). He also has a poetry collection, The Hydrocephalic Ward, from Dark Regions Press.