Woodwork
Lynette Mejía
My secret lies
here, between the walls, its fingers
embedded like nails, twisted screws
joining wood and stone, neither
truly satisfied with the arrangement
and the odd layout of the rooms.
This is where my memories live:
splinters and half-formed thoughts
of suicide pounded into a frame
held together by nothing
more than the force of someone
else's will.
Once I tried to renovate,
but the paint soaked through
with my mother's ghost
refused to be covered, like acid
it ate through the seller's
brown and the minty greens
and she laughed and smoked at the thought
giggling like a toothless girl
at my taste for the ordinary.
So I'm left with only the skill
to work wood and to manipulate
the inanimate, to own it
and yet not place
more than the vaguest mark
upon the surface, impotent
while her spirit hoots and bleeds through every layer.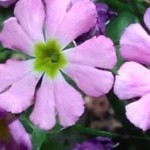 Lynette Mejía writes science fiction, fantasy, and horror prose and poetry from the middle of a deep, dark forest in the wilds of southern Louisiana. Her work has been nominated for the Pushcart Prize, the Rhysling Award and the Million Writers Award. You can find her online at www.lynettemejia.com.