Lightbulbs
Emma J. Gibbon
Pushing my soles down onto
broken light bulbs.
Fuck eggshells,
they're not fragile
or satisfying enough for this
dance that I perform for you.
My wink is an all-knowing one
as I shimmy,
breaking myself like whitewater
against your hip,
reassembling as grit-teethed mercury.
Enduring while tying cherry stalks with my tongue.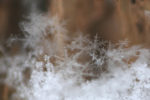 Emma J. Gibbon is originally from Yorkshire and now lives in Maine. Her poetry has been published in Strange Horizons, Liminality, Pedestal Magazine and Eye to the Telescope and her debut fiction collection, Dark Blood Comes from the Feet, is out in May from Trepidatio Publishing. Emma lives with her husband, Steve, and three exceptional animals: Odin, Mothra and M. Bison (also known as Grim). Her website is emmajgibbon.com.