Pine Song, Robin Song, Star Song
Holly Lyn Walrath
We were two unlikely lovers. I was born in a wet wheat field,
you in the nest cradled on my shoulders. I heard your cries
and felt happy to be taking care of something. You were somehow
closer to me than my family, whose fingers were mere wisps,
their tendrils tangled in my toes, their messages strange and distant.
I never knew how to love before you.
We grew together. Your pin feathers turned soft.
How I used to dream of you, in long years of rest I took
between the slivers of moonlight. When I awoke your earthly
body was gone and I wept for the fleeting nature of everything,
but also because I knew you could never leave me now.
You sang to me, curled into my hollows, so small
not even the creatures on the ground noticed.
When men came to cut me down I lingered over the stump,
marveling at the many rings of myself.
I never knew so much was hidden inside me.
I might have cursed them, but for once I was truly evergreen.
We traveled entire continents together, you and I.
I felt free for once, my body unrooted from my family and yet
we made a new kind of longing. We sang silent songs to the stars.
Later the men set fires. We never learned what they were trying to kill,
what fear they wanted to burn down. Perhaps once the men
saw the stars again they realized how small we all are,
stumbling out of their little homes, limping in circles.
Seeing them this way made us feel better,
as if we had an eternity to learn secrets from each other.
We don't have to wait for the day when man no longer walks
the path of the dead. They no longer make homes in the hollow
hearts of my cousins, sisters, mothers. They can't knock your nests down
with rocks and pluck your children out to blow holes in their shells,
to wear them as necklaces.
They didn't stay with us because men don't believe in ghosts.
We came to know the stars too, to memorize the spaces in-between them
almost as well as their restless faces. You told me stories about the stars,
how they longed to be close to us, how they didn't understand the messages
the humans sent. You promised me one day we'd join them in the sky,
and perhaps on some other earth two lovers would look up to us
and wish upon our ghostly bodies.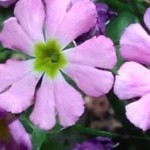 Holly Walrath is an author, freelance editor, and the Marketing Coordinator of Writespace, a nonprofit literary center in Houston, Texas. Her short fiction and poetry has appeared in Pulp Literature, Abyss & Apex, Silver Blade, and Literary Orphans, among others. Holly currently resides in Seabrook, Texas. Find her online @hollylynwalrath or hlwalrath.com.