Giant-Killer, 1915
Ross Holmes
Humboldt County, California
A stranger said you must have to
close your eyes inside
to cut a tree like that. Listen—
They never die. I saw one
that bore scars from four fires
across five centuries, still standing,
not just standing but hulking,
twenty feet around
and climbing up into darkness.
Bugs can't get under the bark,
they swarm and retreat,
buzzing off of it like laughter.
Rot rests in the dead heart
and seethes, powerless
to touch the living wood.
You don't harden your heart to cut it,
you don't hush some inner voice;
you let it roar, your eyes wide open,
and you swing.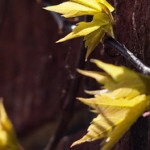 Ross Holmes lives in Saint Paul, Minnesota, and is currently an MFA candidate and Writing Center consultant at Hamline University. His work has previously appeared in rock, paper, scissors, Shapes & Names, and Flash Fiction Magazine.