Bartleby in Lyon – L.M. Feinstein
"One prime thing was this,—he was always there;—first in the morning, continually through the day, and the last at night."
If Bartleby were a Frenchman,
he might have scrivened
in this room. The past perfect of scribe,
the future perfect will have
scribed. And I have been
prescribed and transcribed,
oversubscribed,
and lately described,
as someone who most likely
prefers not to. I am
the past tense, passive voice,
the perfect past
of an old majestic fireplace,
that might have warmed
Bartleby's fingers if he had scrivened in this room
in Lyon,
a fireplace extinguished
and clogged up by time and tense,
a vestigial vestiaire,
a deconstructed mantle,
a dismantled deconstruction,
less than two feet from
my old lumpy bed in Lyon.
Let's get technical here.
Bartleby had no fireplace
in his own narrow room, but in this room,
a mere two feet separates my bed
from an impotent hearth,
twenty-foot ceilings looming indulgently
above a solitary desk butted up against
a tall, massive window that looks out
at a crumbling brick wall.
And this fireplace is pointless,
yet stubbornly present,
persisting to occupy space,
preferring not
to smolder with smoke,
preferring not
to ignite,
preferring not
to burn the ink-blotted papers,
imperfect notes, and dead letters
that a scrivener might discard
into hypothetical flames,
ascribing an infinite number
of negatives infinitives
to its dysfunctional existence.
If I stay in Lyon too long,
if I stare too hard into this empty fireplace
I might forget to eat.
I might write
and write
and
write
and record the minutia that defines
the excesses of life until I too
prefer not to.
And as the sun swings high above Lyon
I might close the ten-foot shutters
that stare out at an old brick wall
and block the sun,
listening to the lights fade
and imagining the fête des lumières
as sacred virgins and prison guards everywhere
cry out to Bartleby,
cry out to me,
lounging
in our ultra slim, shady tall rooms,
beseeching us to light a candle,
unclog the flue,
spark a fire,
and forge new words
from among the flames,
but Bartleby and I,
we will simply stare
into the fireplace, breathing in the phantom ash
of past perfect fires,
and we will reply,
I prefer
not to.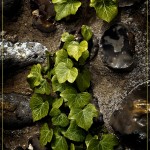 Lisa M. Feinstein is a poet, writer, traveler, backseat theologian, Infant of Prague advocate, and cheese-hoarder who resides in western New York. Lisa's writing has appeared in online journals such as The Lake, Poetry Midwest, Heavy Bear, Up the Staircase, and The Houston Literary Review. Her work has also appeared in print publications such as Vincent Brothers Review, GUD Magazine, and Stone Canoe.