How to trick bees into singing
Hester J. Rook
Honeystung, she sings
voice bronze-smeared and molten.
Beetles burr about her summered crown,
bodies tigerstriped and skittering,
spiked with peach fuzz.
They drink from blossoms, bursting
blue as midday
unfurling from each of her palms.
Leaves snarl down to feet
rooted deep, as her voice flies –
and, pollen-faced
the bees sing themselves,
soft and insouciant and sun-swarmed
into sweetness.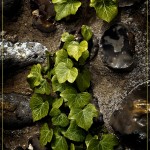 Hester J. Rook is a Rhysling Award nominated poet and co-editor of Twisted Moon Magazine. Find Hester on Twitter @hesterjrook and read more poems and stories at hesterjrook.wordpress.com. Stumble across them salt-scrunched on beaches, reading arcane tales and losing the moon in their tea.