Holloways, Green Lanes, and the Old Straight Track – Oliver Smith
On the hill we chase
round the same old birch tree
and down the path for
a hundred iterations.
Light shimmers at first
through the green filter
of the canopy, then blooms
in the leafy abyss
where winter felled an ancient,
who lies with his branches
holding up the earth,
while his roots are buried in a blue void
filled with the swirl of black feathers;
filled with the rasp of old crows
as a dozen loose birds
fall into the sun.
*
Between the glade and grove
the air hums with the song
of yellow bees that navigate
the wild march of foxgloves.
The tall plants endure
like Byzantine kings,
so proud in their velvet robes;
decadence spattering buds
of emperor's-purple
with black plague-blotches.
Loaded with pollen, one solitary:
a fat boy, sleepy and heavy
with nectar, crawls from a bell
and swims at a slow stroke
through the syrup-thick air,
drunk on the flowers' poison.
*
The dead might be close beside us
in the moonlight, down
by the river's snake-back,
picked out by the mirror
reflecting us in the midnight sky:
where stars shine in deep waters
like scattered white stones
left to mark the way between the trees;
like a thread of milk spilled
between the bogs and streams,
to draw the departed
to their everlasting feast
with old gods,
who swim like pike-shadows
in the still green pool
with their sharp teeth waiting.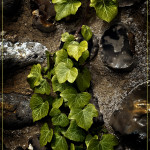 Oliver Smith's poetry has appeared in Strange Horizons, Star*Line, Spectral Realms, Rivet, Riddled with Arrows, Illumen, and Eye to the Telescope. He was awarded first place in the BSFS 2019 competition for his poem 'Better Living through Witchcraft'. His prose has been included in anthologies from, among others, Flame Tree Publishing and Ex- Occidente Press, who also published his story collection, Stars Beneath the Ships.
Oliver's stories and poems generally involve the weird, fantastic, and speculative: in his collection Basilisk Soup & Other Fantasies there's a mermaid singing in the bath, pickled brains plotting in the pantry, and a green man who has lost his head and isn't going to take it lying down. https://oliversimonsmithwriter.wordpress.com/