Lilac
E. Kristin Anderson
I carry a vivid shadow,
an emergency in a ballgown—
this is the trouble,
this rose in that same torrid smile.
My vices are daughters:
the summertime light, whirlwind temper.
I account for the devils
among the elements, a fraught sky
in charcoal, slipping
back inside the truth—blood
a bad idea,
some animal listening for
the curve of night
behind a knife, a gift from smoke.
(This is an erasure poem. Source material: King, Stephen. Rose Madder. New York: Pocket, 1995. 153-163. Print.)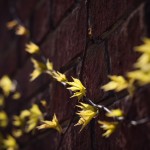 E. Kristin Anderson is a poet, Starbucks connoisseur, and glitter enthusiast living in Austin, Texas. She is the editor of Come as You Are, an anthology of writing on 90s pop culture (Anomalous Press), and Hysteria: Writing the female body (Sable Books, forthcoming). Kristin is the author of eight chapbooks of poetry including A Guide for the Practical Abductee (Red Bird Chapbooks), Pray, Pray, Pray: Poems I wrote to Prince in the middle of the night (Porkbelly Press), Fire in the Sky (Grey Book Press), We're Doing Witchcraft (Hermeneutic Chaos Press), and 17 seventeen XVII (Grey Book Press). Kristin is an assistant poetry editor at The Boiler and a slush reader at Sugared Water. Once upon a time she worked nights at The New Yorker. Find her online at EKristinAnderson.com and on twitter at @ek_anderson.