Behold and Beholden
Neile Graham
We are the hungriest of ghosts. I fed you
fat raindrops glistening from sprigs of moss, sea-salted,
cedar-smoked.
You taught me to lick sun-golden honey
from the chisel-strikes on ancient, beautiful, dusk-
coloured stone.
A feast of so many gifts: I took and I took
and I gave back to you. A tale crisp
as a fresh-fallen
apple, shined with my own skin and passed
over to you. That was before. Before
you told me
how black suits and shoes followed you. When
I loved you like you were salt as black olives, warm as
new bread.
When the suits took you, did you wake alone
in your own bed? Fingerprints invisibly dimpling
and darkening
your skin? This is my tribute to you: I make things
from the spices you left behind: cloves' vigor,
the passion of saffron.
I dream of you tasting the world with me again,
while I hide in plain sight, rolling and cutting
dough sweet
with shards from the fractures that broke you,
with filaments spun from the web spiders left
over your oubliette's
mouth, twisted threads from your abattoir.
I never doubted you could shave bits away
from my skin.
This is all I have left to feed a spirit
as famished as you.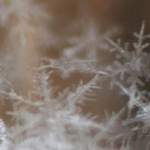 Neile Graham is Canadian by birth and inclination but is a long-term Seattle resident where she can still live close to ocean and rainforest. Her publications include three poetry collections, most recently Blood Memory, a spoken word CD, She Says: Poems Selected & New, and poems in various journals, including Interfictions, Stone Telling, and previous issues of Liminality.