The Magic 8-Ball is Having None Of It
E.P. Beaumont
The ball rolls into darkness and up comes the message
FUCKS, I HAVE NONE TO GIVE.
Another roll, and
I CANNOT WITH THIS.
No, really you shouldn't be obsessed with
Does He Really Love Me. You should be watching
for the shadows creeping from all the corners
whenever he's in your house.
Even the oracle gets frazzled sometimes.
Go back, think about what you've done,
and come back with a question worth asking.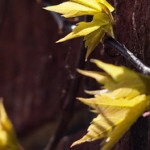 E.P. Beaumont writes poems, novels, and stories that explore the turbulent boundary between the fantastic, historical, and futuristic. An active member of on­line and local writing communities, Beaumont co-founded Big World Writing Club in summer 2011 and has served as a National Novel Writing Month Municipal Liaison since 2014. Published prose includes the science-fiction collection Tales from the Inhabited Worlds as well as other stories. [https://www.amazon.com/E.-P.-Beaumont/e/B008H5WWZQ]. Follow on Twitter at @epbeaumont or epbeaumont.com.