Dissimulation with Birds
Alicia Hoffman
i. Starling
Black husk, shimmered in oil come midnight.
Dreams of leaving emerge hard as bells
when I wake alone and mouth the word alone
only to glimpse mirror's sharpened beak at my back.
ii. Cardinal
Come day, everything I hide is a feast
for you, picnicking in late summer's green.
If I were to wallflower yet again
would you promise never to search for me?
iii. Sparrow
On the Euro rail all the trees were the same
dull bread, and I, ravenous as the scripture.
Tamed on the crowded streets of Prague,
I forgot my name means anything.
iv. Finch
Calling you all, I lost the point of color,
colliding in the monsoon of our bed, pecking
at random interactions misidentified
as something other than this fleeting.
v. Heron
Still, the stillness wrecks me. Balancing
these wings of memories, the labor I leave
till dawn is a sharp slit of the knife's evening
before I even think to move from the cutting.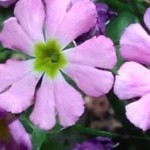 Originally from Pennsylvania, Alicia Hoffman lives, writes, and teaches in Rochester, New York. Author of "Like Stardust In the Peat Moss" and "Railroad Phoenix" (Aldrich Press, 2017), her poems have appeared in a variety of magazines, including Radar Poetry, A-Minor Magazine, The Watershed Review, Tar River Poetry, SOFTBLOW, The Penn Review, and elsewhere. She holds an MFA in Poetry from the Rainier Writing Workshop at Pacific Lutheran University. Find out more at www.aliciamariehoffman.com.