The Dryad's Lament for Autumn
Kendra Cardin
The world is warmer than it once was,
and she can feel it in the sap.
The way it crystallizes along her branched limbs,
honeycombs against her skin,
leaves her caramelized against the thirsty pine.
She remembers a time when she'd peel away
swift and slick from the trunk,
wriggle worm-like into the earth,
to reemerge into a sweet-natured maple or a soulful oak.
She had her pick of trees back then, before this interminable heat,
a front row seat to the boldness of the leaves,
a thousand flame-hued reasons to be sure of change.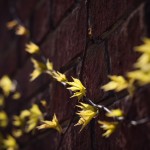 Kendra Cardin is a part-time poet, full-time tambourine enthusiast, and gently haunted soul.