For Ophelia, Twenty-Five Years Later
Jacqueline West
There have been too many poems
to your ending, too many paintings
of your lovely corpse lying on the stream
like it's someone's silk sheet, the water
a pillow for your ravished gold hair.
Once I might have written one,
playing like the river does with the billows
of your dress, strewing you with soggy leaves,
making death into something for a pretty girl
to wear, to put on like a crown of braided weeds.
Maybe it's age: that once you seemed
grown up to me when now you are so clearly
a child. Maybe my own girlhood
is distant enough that I can turn
and look back without it catching up
But now I would rather envision you
going about an ordinary day, sipping from a cup
in a sunny window, bending over a garden bed
thick with the herbs you plant and tend, pulling back
the bundle of your gold hair to tie it out of your own way.
Maybe you visit your mother's grave, the deep
crack of her loss keeping you from the edge, and walk
home again with the brother who loves you. Maybe
when that prince in black shows up with a gift,
you don't take it. You have enough of your own.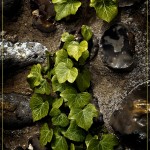 Jacqueline West's poetry has appeared in journals including Mythic Delirium, Strange Horizons, Goblin Fruit, and Star*Line, has been nominated twice for both the Rhysling Award and the Pushcart Prize. Her first full-length poetry collection, Candle and Pins: Poems on Superstitions, was published in 2018.  She is also the author of the New York Times-bestselling middle grade series The Books of Elsewhere and several other novels for young readers. Jacqueline lives with her family in Minnesota. (www.jacquelinewest.com)