Farmer's Market, Post-Eviction
Sarah Grey
Among the gourds and huddled lettuce leaves
The white woman hustles avocados
Like meaty pills with pits, and sickly green,
For seven bucks a pop. I stop to stalk
Her wares. Even in California, trees
Don't grow out cash, don't flower dollar bills,
And seven, spread like cream, could pay some bills.
I smile and palm the fruit until she leaves,
Then snatch one, dimpled soft and lush as trees.
It's overripe; small for avocados.
It'd make for solid toast, with a stalk
Of arugula, if I had the green.
But one cut shows the meat's pure gold, not green
At all, and on the pit's a sign that bills
The contents FOR LEASE: CHEAP! A door; a stalk
Of terracotta-potted palm, the leaves
In glossy fans. So this avocado's
Got landscaping: nice entryway, young trees.
I've wanted a place with a pool, trimmed trees,
A fit-and-flirting man to mow the green.
Never thought to look in avocados.
The insulating meat pares down the bills.
In the sun-pink eve the landscaper leaves
Me sweat-cooled, sated, all alone to stalk
The price of condos, or kale by the stalk,
Apartment rates grown high as redwood trees,
And grocers gouging cabbage, counting leaves,
Cultivating concentrations of green,
Scraping seeds and sorting Benjamin bills.
But not so, in stolen avocados.
California's built of avocados,
Of meaty gold and easy men and stalk
Upon stalk of berries and cress. My bills,
What still I owe, are small. Like stunted trees
We downsize, shrink to our pittance of green.
We steal the meager spaces this world leaves.
This avocado's home now; my palm tree's
But a minikin stalk of hope too green
For bills.
But oh, the lovely pit it leaves.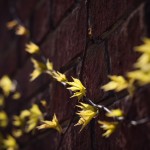 Sarah Grey's poetry has previously appeared in Liminality, as well as in Polu Texni and Star*Line. Her short stories have appeared in a number of publications, including Lightspeed, Intergalactic Medicine Show, and Flytrap, and have twice received an Honorable Mention in The Year's Best Science Fiction. She lives with her family in California, and believes life is better on purple suede skates.