The Widow and the Wave
MJ Cunniff
For forty years I have only put my skin half on;
gold braids and wet eyes burrowed in a salt-
slick care-worn mess of grey, rubbing against the hips and holes
of me like a prom dress in the back of your closet
that was beautiful once, that doesn't fit anymore.
I got drunk when you died, my love; smashed your
careful ship in a bottle into shards and drift-toothpicks,
numbed by salt and expensive vodka, passed out
in a running bathtub in your mother's fur coat,
sobbing like seal chatter but I was the one,
I was the one who promised not to leave, remember?
You never kept it from me. I know. You got older
and it moved from the couch to the porch to our bed,
as your bones ached harder in the wet air,
and your chestnut hair brindled to match it,
gray and white; you said it still smelled like me
when all I could taste was the scent of you,
Chanel and holy basil from the garden.
Six of my sisters have empty holes in the ground,
walnut caskets and stones with their Christian names;
next to their husbands, or under peonies dropped
onto the dirt by their dutiful, quiet sons.
Our story ends with a trellis thrown to the ground,
white roses stripped from the vine and tossed
across the graves of all those fisherman's mothers,
those grand grey strangers who died, they say,
while the boats were caught in storm; our story ends
Like this: the last seal-woman leaves her wife's house
one day and forgets to look back; or like this:
she walks into the water and forgets to choke on it.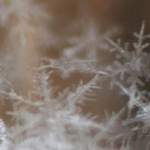 MJ Cunniff is a sad gay wolf, a literature PhD student, a poetry editor at Strange Horizons, full of fae bullshit, and an enthusiastic proponent of bricolaging one's author bios. You can find MJ in forests, cemeteries, queer bars, or on Twitter at @finishmywords.