It's Lohengrin, but
Amelia Sirina
why not lack of it instead?
Why would you ply my lips apart and mark me
with a faded name I have surrendered long ago
for snowy feathers of my swans,
the anonymity of grace?
Were you afraid I would be cruel?
Is namelessness a shy step back
to lost and savage nature of the beasts?
Were you concerned I'd hide?
The veil of deeds I'd done too bright
not to become a mask?
Of course you're searching for a name,
an address and a proof with which to pin me down —
a needle; at the end of it I'm mounted
mothlike, label at my feet.
Shields lie that way in boats for heroes
Dead and mourned.
One word can trap all that I am
in few stock sounds. You want it?
Lohengrin. Just say it — Lohengrin.
A better man, a hero, now distilled
into a simple mortal call. All yours.
How could he leave, imprinted on your lips?
And I? My swans will take me
to the lands of silence where
all those who kiss the Lethe's eerie chill
have the most childlike wish of unnamed purity
fulfilled.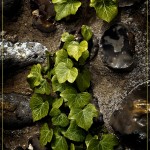 Amelia Sirina is a Buryat-Russian speculative fiction writer. She studied Classics in Moscow State University, she falls in love with any new myths or fairytales easily and loves learning new languages. In her free time she travels.