Welcome to autumn – our favorite season, and the season in which we first launched Liminality. Yes, we've been bringing you beautiful and diverse poems from wonderful and diverse poets for a year now! And we have no intention of stopping. We're thrilled that we've been able to bring so many new voices to your attention alongside established speculative poets. Welcome to the future.
And this issue goes to the future. We start and end with a cup of tea, but in between, we go far into space. It's a journey, this issue. Walk with us. We'll lead you back home.
We are so glad that you've chosen to walk with us. Many thanks to our subscribers, and to the people who've sponsored us. Another of the great joys of this project is its financial sustainability, thanks to our supporters! Remember, you can sponsor us for any amount of money, and special treats abound.
So come along on our autumn journey. We have so many things to show you.
Shira and Mattie, Editrixes

This issue's mascot is Milady de Whisper!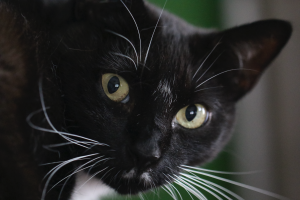 Whisper was supposed to be Editrix Shira's Mother's Day gift last year, but she adopted Shira's daughter Elayna instead. She does accept Shira as a reasonable substitute while Elayna is at college, though. Whisper's favorite hobby? Curling up next to Shira and physically grabbing whatever book Shira's reading to forcefully nuzzle it. Recently she has enjoyed the poetry of Buddy Wakefield, Mike Allen, and Yrsa Daley-Ward in this fashion. (Photo by David Dyte.)
(Interested in having your pets as our mascots?)

Mat Joiner's poems and short stories have appeared in the likes of Strange Horizons, Goblin Fruit, Stone Telling, and Not One Of Us. Their poem "And Deeper Than Did Ever Plummet Sound" won the 2014 Dwarf Stars Award. They love ghosts, Green Men, and old books, and think "canalpunk" should be a subgenre. They never owned cats, but have a fox running around their head. They live in Birmingham, England.
Shira Lipkin is a writer, poet, and editor in Boston; in their spare time, they volunteer with the Boston Area Rape Crisis Center. Their poetry and short fiction have appeared in Strange Horizons, Stone Telling, Clockwork Phoenix 4, Interfictions 2, and other marvelous places; their poem "The Library, After" won the 2012 Rhysling Award. They attend a lot of burlesque shows, but that's not where the glitter comes from. Their cat is bigger than their dog.