Birch Bark Quilt
Jennifer Crow
For Tina
Sew a quilt of birch bark and ferns,
a coverlet carrying the scent of a forest
in spring, possibilities drawn tight
under your chin at night, the reassuring hope
of tomorrows spun out
from our dance around the sun.
Sew a quilt of birch bark and ferns,
curtain your room in lady's slippers
and wild violets, feed fawns
under the first full moon
after the snow melts. Let the child
in your heart run barefoot
through puddles which reflect
a bluer sky. Close your eyes, and listen
to the way the night breathes
when it has nothing to grieve.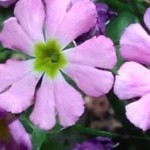 Shy and nocturnal, Jennifer Crow has rarely been photographed in the wild, but it's rumored that she lives near a waterfall in western New York. You can find her poetry on several websites, including Liminality, Goblin Fruit, Uncanny, Mythic Delirium, Eye to the Telescope, and Mithila Review. She's always happy to connect with readers on her Facebook author page or on twitter @writerjencrow.