The Egypt Game by Zilpha Keatley Snyder
Tristan Beiter
When rain came we would go in
from oracle rocks in abandoned backyards, ramshackle sheds we worshipped in.
Such summer sun was an open omen
under which long men, lanky sorcerers, oversaw our arrival and leaving.
Rain would fall on highwaymen,
brilliance in each flashing kick of spurs, ringing on harnesses like copper bells.
Were you lonely, child?
Come in, come in, sang crocodilian lords,
scales sliding over cracks in windows, faded fences, kicked cans, hidden places covered by leaves,
like a palace which is also memory and April,
where some gods care only for children.
Such gods are furious guardians,
presiding over marble pillars and jasper floors:
a wooden bobsled, a hill a caesura.
You could remember our gods,
voices echoing over boards and in hollows where we dared not speak for fear of coldly marvelous vengeance.
Signs flashed: Danger, Danger, Danger.
Grass ground in,
marking paper skin in green
so one day, when we allowed ourselves barrels and cracked mirrors
where we saw ourselves as we were,
we saw—shining—four hawks locked,
calling us from our houses, demanding us, requiring an endless "again"
of seven crows cawing blood and cedar,
each door opened wide
on such symbols,
a reminiscence of imagined sand and flowered palaces
from which we were called
and where we always came back with offerings
laid down before gods' carven names
in plywood like carnelian plaques.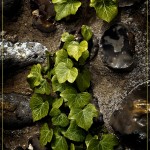 Tristan Beiter is a poet and speculative fiction nerd originally from Central Pennsylvania. His work has previously appeared in such venues as Fantasy Magazine, Abyss & Apex, Liminality, and Twisted Moon. When not reading or writing, he can be found doing needlecrafts, crafting absurdities with his boyfriend, and yelling about literary theory. Find him on Twitter at @TristanBeiter.