Wildfire
Cassandra Rose Clarke
She smokes cigarettes on the slab of concrete
they call the front porch. Dust settles on
the cataract of dead grass flowing towards
the black river of the highway. She dreams
of escape, which shimmers like a heat mirage
over the asphalt. Inside the house her parents
watch the broken television, the laugh track of
a fifty-year-old sitcom seeping into the
dry parch of the yard. She has never seen this
grass green, never heard the whine of a car
on the road, never touched a neighbor's
outstretched hand. Time halted when the
house burned, October 1970, a single spark
spread for thirty miles by the devil's breath.
Her cigarette has burned almost to the filter.
The loop is almost ended. She breathes in
one last lungful of smoke and then she tosses
the spark into the hot dry wind,
and waits.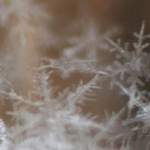 Cassandra Rose Clarke's work has placed in the Rhysling Awards and been nominated for the Philip K. Dick Award, the Romantic Times Reviewer's Choice Award, the Pushcart Prize, and YALSA's Best Fiction for Young Adults. She grew up in south Texas and currently lives in Houston, where she writes and serves as the associate director for Writespace, a literary arts nonprofit. She holds an M.A. in creative writing from The University of Texas at Austin, and in 2010 she attended the Clarion West Writer's Workshop in Seattle. Her latest novel is Halo: Battle Born, forthcoming from Scholastic.