My Relationship with Water
Laura Lane
Distasteful, tongue numbing—
legs stretched long, my body naked, a cove
where the small of my back should be
in a tub with depleting water levels.
This is filth. I'm cutting my fingernails,
crescent moons floating on the surface
of my bath water momentarily
acting like rose petals,
then sinking.
Let the water go
watch what I've done follow the current.
Pieces of me circle the drain
suddenly the tub is empty
my nakedness strange,
but my body immovable.
I have obligations,
ability,
everything (add emphasis)
yet nothing will move me—
not even flowers.
Are there gladiolas in your life?
Are they on your catch-all dining room table
near unopened mail, lost car keys,
the indentation of a misfired round?
There's a poem in a gladiola's long death dying one
bloom at a time.
Someone else's poem,
that which doesn't serve as an extended metaphor
for my failures
remains another person's problem.
I'll again pull flowers to pieces when mold
stops growing from the crossed faces
of screws stuffed into fiberglass at eye level.
Call the water back with my toes on the tap.
No one is coming home, I remember.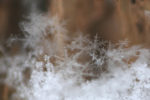 Laura Lane is writing to you from Willow Creek, CA, where she is an instructor of writing at College of the Redwoods. Her poetry is often misshapen: a crooked mess of words that underline her constant state of confusion.